Luxury Tweed Chunky (Discontinued)
The "Chunky" version of the wonderful Luxury Tweed Yarn by Debbie Bliss. Unfortunately, now discontinued to a must for your stash.
RRP £10.99 SALE PRICE £8.50
Please scroll down for shade card and ordering.
Tension Information

Needle Sizes
7mm/10.5 US
Stitches and Rows per 10cm
12sts x 18rows
Meterage / Yardage
100m/109 yards for 100g
AVAILABLE STOCK
02 Light Grey x 9 skeins
03 Navy x 16 skeins
12 Forest Green x 8 skeins
16 Deep Turquoise x 17 skeins
19 Royal Purple x 10 skeins
22 Denim Blue x 20 skeins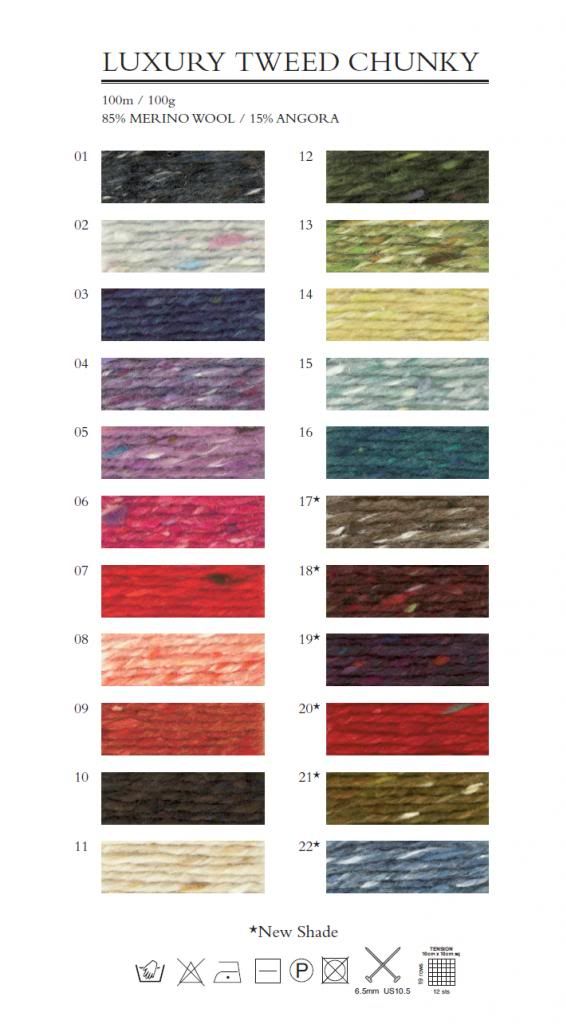 From £8.50
PLEASE NOTE: WE ARE ON ANNUAL LEAVE FROM 11th AUGUST UNTIL 30th SEPTEMBER. ANY ORDER WILL BE DEALT WITH ON OUR RETURN. THANK YOU!